Blue Cross Blue Shield Dental Dentist – Waco, TX
Save Money, Smile More with BCBS Dental Insurance
The American Dental Association recommends that everyone see a dentist at least twice each year for a dental checkup. Whether you are a family of one or many, those appointments can add up. How would like to save some money at each one of your dental visits? Dental insurance is designed to help you do just that by reducing fees for covered services—especially when you see an in-network dentist. At the Dental Station, Dr. Winarick and her team are delighted to accept Blue Cross Blue Shield of Texas. Be glad that you work for a company that cares as much about your oral health as you do! And be sure to use your dental benefits to the fullest by scheduling regular preventive dental care with your Blue Cross Blue Shield dentist in Waco.
Blue Cross Blue Shield Coverage Availability & Fees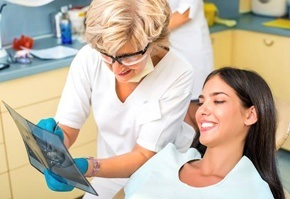 Blue Cross Blue Shield of Texas offer a number of dental plans to help mitigate the cost of services you and your family commonly need. All of the BCBS plans cover diagnostic and preventive care at 100 percent. In addition, you do not need to satisfy your deductible in order to take advantage of this complete coverage. This means that commonly covered services such as two yearly exams and cleanings, and some X-rays are provided with no out-of-pocket expenses when you see your in-network dentist in Waco.
Once you start paying the premiums for your chosen plan, preventive care is covered immediately. More complex procedures require that you first meet the deductible. Minor restorative services are typically covered at 80 percent, while major work receives 50 percent coverage.
Some Blue Cross Blue Shield dental plans have an out-of-pocket maximum to protect you from high costs throughout the year. Once you reach this maximum, your dental insurance pays the full cost of any additional care until your annual maximum benefit is met.
Meet Brian and Andrea
Brian and Andrea are the folks at the Dental Station who are here to help you get the most out of your Blue Cross Blue Shield coverage. Brian is our office manager and has been with our practice since 2006. He enjoys building lasting relationships with patients and making sure everyone has a great experience in the office.
Andrea works the front office. She came to Waco in 2005 and completed her dental assisting degree in 2007. She spent a few years working in Stephenville, and then she returned to Waco and began working at the Dental Station. She loves working with our team and helping others.