Dedicated to Serving Waco & Beyond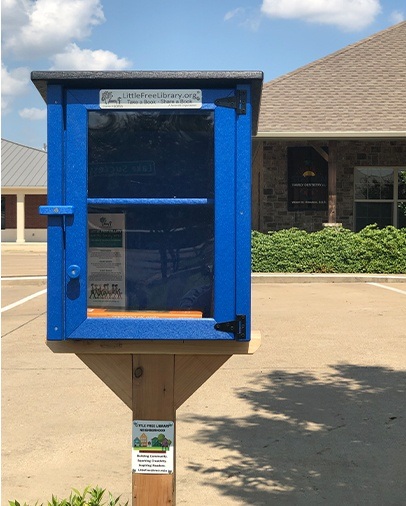 Providing top-notch dental care is just one way our office serves the Waco Community. We're actively involved in the community, and believe that by interacting with those beyond our doors, we can made a genuine difference in the lives of others.
Community involvement is very important to us. Our commitment to the community started 18 years ago with Dr. Winarick's involvement with events such as Diamonds & Denim, Fuzzy Friends Barkin' Ball, Relay for Life and Mission of Mercy just to name a few.
Through the years, we have continued to actively participate in organizations and events that help children of Central Texas. Dental Station has and continues to be a sponsor for both Waco Montessori and Vanguard College Preparatory School through their annual fundraising events and annual funds. A few years back, Dr. Winarick continued her support of local high school students by providing scholarships. The honorees of her College Choice scholarship programs include students from Live Oak Classical School, Waco High and Reicher Catholic High School.
Additionally, Brian has served on the board for the Texas Sports Hall of Fame where he founded and chaired the Texas Shoot-Out, an event recognizing elite student athletes from around the state in basketball. Dental Station has also sponsored basketball teams at the Woodway Family Center and YMCA of Central Texas along with a football team in the Midway Premier League. Currently, outside of the office, Brian coaches basketball at both Waco Montessori and Vanguard College Preparatory School. His summer girls basketball team also won the Texas A&M team camp this past June. Other youth organizations Dental Station Family Dentistry has tried to help children in the area include Riesel Youth t-ball, Bags of Hope, and our newest endeavor, our very own Little Free Library!
Beyond these local endeavors, Dental Station Family Dentistry has sponsored and taken part in mission trips to Cambodia, Haiti, Peru and Guatemala. While helping hundreds of people in Guatemala, Dr. Winarick was recognized for her efforts as part of a team of exodontists from around the world under the leadership of Dr. Tommy Murph.
Would you like to learn more about all the ways we're involved in Waco and beyond? Call our office today to speak with one of our helpful, friendly team members.