Dental Crown & Bridge Care for Waco Residents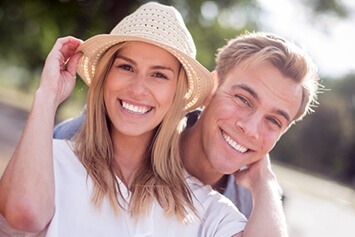 If you're experiencing broken, decayed, or even missing teeth, it's crucial to undergo the restorative care your smile needs to become whole again. After all, further, more destructive problems can develop over time if these issues are left untreated. Thankfully, Dr. Wendy Winarick offers custom-made crowns and bridges here at Dental Station in Waco, TX. These restorations are tough and reliable, and our all-ceramic options will give you back your naturally beautiful smile as well.
Dental Crowns
Custom-made crowns are created to "cap" off the top of the tooth. This can help patients in a variety of situations, such as when a tooth is damaged by injury, or when a tooth is too decayed to be saved with a filling. In other cases, your tooth's overall structure may have weakened, or you may have an aesthetic-minded concern. Our Waco team also relies on them as the finishing touches for dental implant procedures or root canal therapy. When designing your new crown, Dr. Winarick will take several important factors, like appearance, function, and comfort into account, ensuring that you receive the ideal restoration for your smile.
Having a crown created and placed typically requires two to three appointments. First, Dr. Winarick will prepare the tooth and take impressions, providing you with a similar, temporary restoration to wear in the meantime. Then, when the final product arrives, you'll return to Dental Station so our team can place it over the tooth in question and ensure a great fit.
Dental Bridges
A dental bridge is designed to replace one or more lost teeth in a row, and it's often considered a stronger alternative for patients who are dissatisfied with traditional dentures. This is because additional crowns are used to "anchor" the bridge into place within the smile, creating a solid, durable replacement that feels lifelike.
Here in Waco, our team may recommend the placement of dental crowns or bridges in order to help you speak and eat better, to help you avoid problems like TMJ dysfunction and teeth grinding, or simply to erase tooth loss. We want to give you new reasons to smile! Patients from Lorena, Woodway, Hewitt, West, and beyond are welcome to contact us today and schedule their first appointment.