Pediatric Dentistry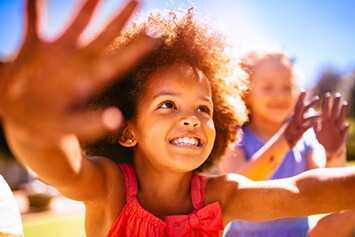 Smiles of all ages need skilled attention, especially when they're still growing. Here at Dental Station, we love seeing the littlest members of your family! Dr. Wendy Winarick and her team understand what an overwhelming experience visiting the dentist can be for children, which is why we do everything we can to create a fun and friendly atmosphere for them. Better yet, our gentle pediatric services will protect and strengthen their smile, allowing them to start on the path towards lifelong oral health.
Preventive Attention
Regular check-ups with our team are important for your child not just because it allows us to find areas of decay and damage that need attention, but also because the development of their smile may need some extra help. It's important for Dr. Winarick to locate these concerns at the earliest stage possible; treatment can be simpler and more comfortable for your child, saving them from a smile that is significantly abnormal in either health or aesthetics. We'll always take your child's age and unique personality into account when providing this care so that they have a gentle, relaxing experience.
Dental Sealants
Some teeth in your smile can have deep pits and grooves that trap dangerous bacteria, hiding it in an area that can be difficult to reach – especially for children who are still learning proper oral hygiene techniques. Our Waco team can provide some extra protection for children from Hewitt, Woodway, Lorena, West, and beyond with dental sealants. This tough, plastic material is painted directly onto the chewing surfaces of back teeth, molars, and other areas that may be sensitive to decay, and they can significantly lessen your son or daughter's chances of having cavities.
Fluoride Treatment
Fluoride is a substance that has been shown to strengthen teeth and increase their resistance to decay over time. In the past, nearly all patients received enough daily fluoride by drinking tap water; however, the rise of bottled water in popularity has left enamel much more vulnerable. Dr. Winarick can provide young patients with regular applications of fluoride so as to bolster their smile, protecting it from damage.