Preventive Dentistry – Waco, TX
Protecting Your Smile for the Future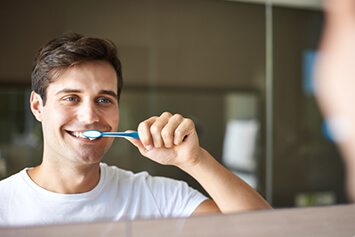 Dr. Wendy Winarick and her dental team are always here to help with problems like cavities, broken enamel, or worn-down teeth – but wouldn't it be nicer if we could help you prevent those problems from happening in the first place? With in-depth check-ups, thorough cleanings, and other preventive measures, we hope to protect you and your family's smiles for many years to come with services that include:
Teeth Cleaning and Dental Checkups
By attending these routine appointments twice-a-year at our Waco, TX location, patients can feel more confident than ever about their oral health. Our highly-trained dental hygienists provide a thorough cleaning to keep your teeth looking and feeling great, while Dr. Winarick can give your mouth, jaw, head, and neck a careful examination to prevent and detect any dental issues. These checkups are important to catch problems like gum disease, tooth decay, or even oral cancer while they're still small, so you won't need more extensive treatment in the future.
Children's Dentistry
We love seeing the entire family! Every member of our staff is very friendly, and we're sure to create an enjoyable, comfortable atmosphere for little patients who may feel nervous. You can take a virtual tour of our office to see if it's the right environment for your children, or you can stop by in person. We love seeing your kids smile, which is why we strive to provide fun and relaxing care for your son or daughter. The more positive dental experiences they have while they're young, the higher their chances are of taking care of their oral health in the future.
Nightguards
If you suffer from painful headaches or teeth that look strangely worn down, you may be suffering from bruxism. Also known as teeth grinding, this condition can lead to serious dental damage and even a near-debilitating jaw condition known as TMJ disorder. Luckily, a personalized nightguard from Dr. Winarick can minimize the ill effects of bruxism. After taking impressions of your teeth, she will create a custom-made mouthguard to comfortably fit around your smile, which will protect your teeth and give you a great night's sleep.
Periodontal Therapy
Gum disease, an infection or inflammation of the gums, affects around 50% of the population. If left untreated, it can not only impact your gums, but it can damage your surrounding supportive tissue, bone, and teeth.
Thankfully, Dr. Winarick provides expert periodontal therapy. She uses a method called scaling and root planing. During this treatment, she will scale your smile to remove plaque and tartar from above and below the gumline. She will then smooth out your tooth roots to make it harder for plaque and bacteria to collect under your gums.
Common Signs and Symptoms of Gum Disease
It's important to catch this disease early on before it causes tooth and bone loss, which is why you should know the common symptoms:
Red, puffy, or swollen gums
Tender gums
Gums that bleed when brushing or flossing
Receding gums
Shifting or loose teeth
Changes in the way your teeth fit together
Persistent bad breath
Pain when chewing
If you notice any of these common signs of gum disease, contact Dr. Winarick to protect your oral and overall health.