Your Exceptional Cosmetic Dentist in Waco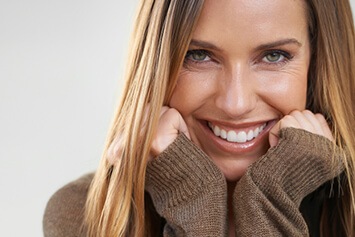 When you look at your smile, what do you see? Do you only notice the flaws? Are your teeth discolored, chipped, cracked, or even broken? Perhaps they are perfectly healthy, but you want them to look extra special for an event that is just around the corner. Whether it's for a wedding, a reunion, or just for yourself, Dr. Wendy Winarick can enhance just about every aspect of your smile with a variety of easy-to-get treatments, and can help you get the beautiful smile that you've always wanted.
Teeth-Whitening
The simple fact is that everyone wants to have white teeth. However, keeping them pristine over time can be very difficult. Factors such as coffee, wine, tobacco, diet, and even genetics can easily leave your teeth looking dull and discolored.
You can now do something about it. Two quick visits to our office will send you home with a custom-made take-home whitening kit. Our kits are made just for you and use much higher quality products than the ones you can pick up from the store. You simply need to use the kit as directed for 2 weeks to make your smile 6-10 shades whiter in the comfort of your own home.
Of course, for people who don't want to wait that long, we also offer a complete in-office treatment. It brightens your smile just as much as our take-home kits, but only takes 1 hour. You can practically get a new smile during your lunch break.
Learn More About Teeth Whitening
All-Ceramic Restorations
Severely damaged teeth can now be brought back to life and revitalize your smile. Dental ceramic is able to better replicate a tooth's appearance and strength than metal, which is why we always use it for our dental crowns and bridges. The porcelain is also non-porous, making the restorations practically stain-proof. You don't just get your smile back, you get a better one.
Porcelain Veneers
Do you have broken, discolored, or misaligned teeth? How about large, obvious gaps? You may have all of them, and separate procedures to fix each problem would be both expensive and time-consuming.
Porcelain veneers offer a much simpler option. They are able to fix and mask all of these cosmetic issues with just one procedure. They are custom-designed ceramic coverings that are fitted to the front of your teeth, and you can get them in as little as two visits. They can give you any kind of result that you desire, whether you want a subtle or dramatic improvement.
Which Treatment Is Right For Me?
When you come to see us, we won't simply give you a treatment and send you out the door. We'll take the time to make sure we fully understand the kind of results you are looking for, and will come up with a treatment planned tailored just for you. This may include multiple treatments, but the end result is a smile that you'll be eager to show the world.
If you have any questions about our cosmetic treatments, or want to schedule an appointment, just give us a call today.
Understanding the Cost of Cosmetic Dentistry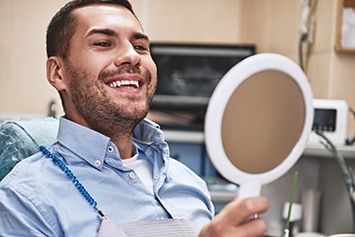 In most cases, dental insurance won't provide any coverage for cosmetic dental treatments. It's one of the reasons why patients often worry about the cost of their smile makeover, at least initially. At Dental Station Family Dentistry, our team members will gladly speak with you one-on-one to help you figure out your specific cosmetic needs and how to keep them within your budget.
What Cosmetic Dental Service is Right for Me?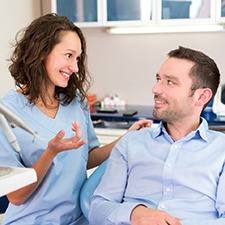 In many cases, patients want to address multiple imperfections in their smile. They may request options on how to best whiten, straighten, or change the shape or size of their teeth. Dr. Winarick is happy to break down her office's options with you directly as well as help create a treatment plan that fits your smile goals while still being affordable. We may recommend the following services:
Teeth Whitening – Fast and affordable solution for removing tough stains in teeth, but you will require touch-ups every so often to keep teeth white.
Direct Bonding – Ideal for covering noticeable flaws in teeth, including chips, cracks, and even gaps. While it can be affordable, it won't last for more than a few years in most cases.
Veneers – Ultra-thin sheaths of dental ceramic that bond to slightly modified teeth. These are very effective at covering multiple imperfections and changing the overall shape of your tooth, but do require permanent alterations and can be quite expensive.
Invisalign – If you have gaps or misaligned teeth, Invisalign's clear aligners can help you shift them into straighter positions. As a bonus, the aligners are clear, so you don't have to worry about your smile's appearance changing while undergoing treatment. You'll need a separate service to address the color or shape of your teeth.
Cosmetic Dentistry Can Be a Worthwhile Investment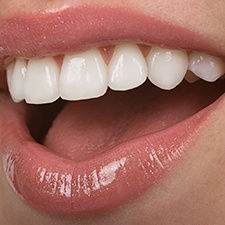 It's important to think about cosmetic dentistry as not just a way to achieve your dream smile, but a long-term investment that can pay off considerably. For one, if you've ever felt self-conscious about your smile in the past, you'll feel a boost of confidence and self-esteem once you see your smile after treatment! With more confidence, it can be easier for you to flash your smile while socializing with others or speak with people at your job, whether they be customers or other colleagues!
How to Make Cosmetic Dentistry Affordable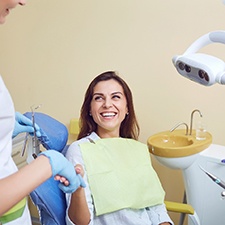 Dental insurance won't cover the majority of cosmetic dentistry since they aren't considered medically necessary to receive. However, there are options available to you as you plan your budget. This includes CareCredit, a third-party financing solution that allows you to pay for dental services over the span of several monthly installments. Depending on the plan you choose, you can even expect little to zero interest on these payments, making your smile makeover even more affordable.
If you'd like to learn more about the cosmetic services we offer or need guidance on how to best pay for your treatment, feel free to give us a call and schedule a consultation. Our team looks forward to working with you directly and creating a plan that fits into your budget.