Complete Your Smile with Dental Implants in Waco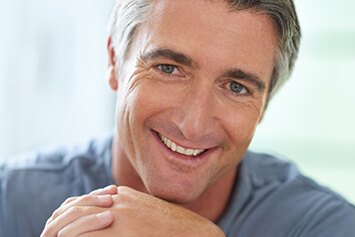 Missing teeth can affect not only your oral health, but also your quality of life and your sense of self-confidence. Here at Dental Station, Dr. Wendy Winarick offers multiple reconstructive solutions, each with their own benefits and potential downsides, so that patients can choose the one that best fits their unique needs. However, in most cases, we recommend dental implants due to their revitalizing health benefits and strong aesthetic appearance.
Your Dental Implant Procedure
Receiving dental implants in Waco happens in two phases. During the first phase, the implants are surgically embedded in your jaw. For optimal results, Dr. Winarick will be happy to recommend patients from Waco, West, Hewitt, Lorena, Woodway, and beyond to a trusted oral surgery specialist who can handle the surgical portion of the procedure.
The oral surgeon will first take detailed x-rays of your mouth in order to accurately plan the placement of your implant. Any implant needs to be positioned to take the best advantage of bone density. In this way, the implant will have a more secure foundation.
After your implant is surgically positioned in your jawbone, several months of healing are required. During this time, a process called osseointegration occurs. The implant and surrounding bone tissue integrate or bond together similarly to the connection that once existed between your tooth root and the bone. This bond not only provides a stable base for your eventual tooth restoration, but also ensures a healthy jaw. Even with one missing tooth, bone loss occurs and your jaw can begin to look sunken, giving you an aged appearance.
Completing Your Smile
Once you've successfully healed from dental implant surgery, we can create beautiful, lifelike restorations that rest on top, replenishing your complete smile. In cases of individually placed implants, personalized, all-ceramic dental crowns are used to recreate the tooth for a seamless appearance. However, if your tooth loss is more significant, an implant-retained prosthetic might be a better option. This appliance looks like a traditional bridge or denture, but it's actually created to attach to a small number of placed implants within the smile, giving you the renewed security and confidence you deserve.
Caring for your new dental implants in Waco is no more difficult than what you're already doing to maintain your smile. Be sure to brush your teeth and dental implants at least twice each day and floss once a day in order to remove debris and dental plaque. Plaque is a naturally occurring biofilm that can accumulate on the tooth restoration portion of your implant as easily as on natural teeth. Plaque buildup can lead to periodontal disease, which is a bacterial infection. These bacteria can easily travel to the area surrounding your implant.
Another important thing to remember when you have dental implants in Waco is not to smoke. Smoking not only hinders the healing process after oral surgery for implants, but also weakens the gum tissue surrounding your dental implants. So for the sake of your smile and your overall health, don't smoke!
Contact Dental Station in Waco, TX today if you have any questions, or if you'd like to schedule an appointment!