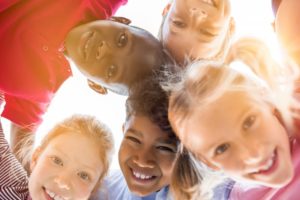 It's February! It's time to celebrate Valentine's Day. But did you know that February is also National Children's Dental Health Month? The American Dental Association sponsors the month-long event to spread awareness of pediatric needs and to encourage families to focus on maintaining their children's dental health. So, in the festive spirit, here are 4 ways you can show your child's dental health some love this February with your pediatric dentist in Waco.
Schedule a Dental Appointment
Starting after their first birthday, your child should be going to the dentist twice a year for checkups and cleanings. These regular appointments allow your child to get comfortable with the dentist's office and with the tools the dentist uses, which can remove hardened plaque and buildup. Every six months, your child can get a fresh start in their mouth with these regularly cleanings. Also, the dentist performs an oral examination, looking for any signs of serious conditions like cavities. By bringing your child to the dentist twice a year, you increase the odds of finding a cavity while it's still early in its development, instead of later when it has already caused more extensive damage. These appointments are critical to establishing healthy oral habits and for preserving your child's natural teeth for years to come.
Replace Your Toothbrushes
The American Dental Association says to replace your toothbrush about every three or four months or when the bristles of the toothbrush become faded or frayed, whichever comes first. After this point, your child's toothbrush becomes less effective and doesn't clean as well. Involve your child and invite them to pick out their next toothbrush and toothpaste at the store. Also, try to have an extra toothbrush for them in the house, just in case.
Make Brushing Fun
Brushing doesn't have be boring—in fact, you can make it fun and exciting for your child every day. The ADA has provided coloring pages and activity sheets online for your children to enjoy. You can also create your own reward chart for daily brushing and flossing. When your child completes those tasks, have them put a sticker on the chart. After the chart is full, give them a reward, such as a fun outing or a small toy. You'll be surprised how excited they can become about brushing and flossing when they get with even the simplest reward.
Make Plaque Visible
To the untrained or young eye, plaque can be difficult to see. To help your child understand that plaque can build up on their teeth, use a plaque-disclosing tablet to reveal areas that need to be cleaned better, such as near the gum line. Then your child can have a clearer vision of how and why they need to brush thoroughly morning and evening.
As you implement these tips into your life at home with your children, you should see a difference in their oral health. If you can remain consistent in encouraging these good habits, your child will be more likely to continue them into adulthood. You have the ability to shape your child's oral health now and in for years into their future. Celebrate National Children's Dental Health Month by making a meaningful change in your child's life.
About the Practice
With two talented dentists and dedicated staff, Dental Station Family Dentistry offers comprehensive dental care for patients of all ages, including children. Owner Dr. Wendy Winarick loves her young patients and is excellent at explaining the importance of oral hygiene to them. To contact them for an appointment, you can call (254) 772-1827 or click here.