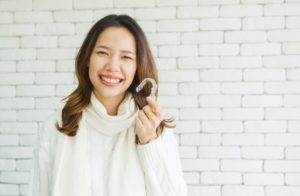 Poor positioning of your teeth can be a leading source of embarrassment, but aesthetic concerns aren't the only issues. If your teeth are misaligned, it can also cause an improper bite. This can make it difficult and even painful to perform simple tasks, like biting or chewing. It can also lead to dental problems, like uneven wear on your enamel. Traditionally, metal braces are used to correct bite and alignment problems, but they aren't right for everyone because they are very noticeable. If you need a sophisticated solution to fix your bite, Invisalign in Waco may be the answer. Here's what you need to know to determine if clear aligners can help you.
How Does Invisalign Work?
Invisalign uses a different concept to move your teeth because brackets and wires aren't used to pull them into position. Instead, a series of clear aligners are fabricated to apply continual pressure to your teeth to gently align them. Since they aren't fixed to your teeth, there aren't any dietary or oral hygiene restrictions; however, you'll need to commit to wearing them for at least 22 hours per day. Your orthodontist in Waco will explain your treatment plan and answer any questions during your initial consultation.
What Bite Issues Can Invisalign Correct?
Typically, Invisalign is used to resolve alignment issues that cause gaps, overcrowding, or crooked teeth, but it can also improve your bite as well. Although every case differs, the aligners can often fix:
Overbite
When the upper teeth extend too far over the lower teeth, it can make eating difficult. Depending on the severity of the overbite, Invisalign can move your teeth to ensure your mouth can properly close.
Underbite
The lower teeth can extend over the upper teeth. This can interfere with speech, chewing, and biting. Invisalign can move your lower teeth to sit behind the front ones.
Crossbite
The upper teeth can rest inside the lower teeth, which increases your risk of enamel erosion, chips, receding gum line, and dental emergencies. Often, Invisalign can move the teeth into their correct positions without needing brackets and wires.
Open Bite
The upper and lower teeth may not come together in the front, causing the bite to remain open. It often results from bad habits, like thumb sucking or a tongue thrust. Invisalign can close the gap for a beautiful, functional smile.
Improve Your Bite Today
An improper bite can lead to jaw pain and dental issues. You don't need to live with the challenges it causes. You can improve your smile with Invisalign. Your orthodontist will perform the thorough consultation you need to ensure clear aligners are right for you.
About Dr. Wendy Winarick
Dr. Wendy Winarick earned her dental degree from the University of Texas School of Dentistry-Houston. She regularly completes continuing education to remain up to date with the latest treatments and procedures. As an active member of various dental organizations, you can rest assured your smile is in good hands. Contact our office today to schedule your consultation.