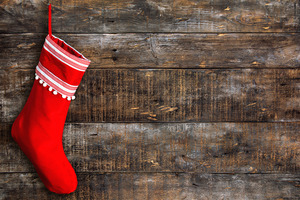 It's always gratifying to see your child's face light up when they discover their stocking filled with presents. However, this year you might want to put some thought into the kind of goodies you give them. Candy is usually a very common stocking stuffer, but there are plenty of more tooth-friendly options that can also make for exciting gifts. Here are 3 examples of small presents that can help your child maintain a healthy smile.
1. A Brand-New Toothbrush
You'll have to get your child a new toothbrush eventually, so why not give them a special Christmas toothbrush that they'll be excited to use? See if you can find one that has their favorite licensed character on it. There are also toothbrushes that play music, which can go a long way toward making oral hygiene more fun.
If your child tends to have trouble brushing thoroughly, consider getting them an electric toothbrush. Not only does it provide more brushing power, but it can make it easier to remove plaque from the various nooks and crannies of your little one's smile.
2. Fun-Flavored Dental Products
Does your child dislike minty toothpaste and dental floss? Fortunately, many kid-friendly oral hygiene products come in a variety of flavors such as bubblegum. Picking the right flavor can help make brushing and flossing fun for your little one.
While looking for flavored dental products, remember that quality still matters. For example, you should only buy toothpaste that contains fluoride and has a Seal of Approval from the ADA. Furthermore, if your child is under the age of two, you should double-check with your dentist to see what types of toothpaste are safe for them.
3. Smile-Friendly Snacks
While there's nothing wrong with letting your child enjoy a piece of candy every so often, you don't want to fill their stocking with nothing but sugary treats. Instead, consider snacks that will help them maintain a healthier mouth.
Sugar-free gum is often a great option. It lets your child satisfy their sweet tooth without raising their risk of cavities. In fact, chewing on sugar-free gum can actually lower the chances of tooth decay by boosting the production of saliva that can rinse away harmful food particles and bacteria.
Certain types of nuts can also benefit your child's smile. Peanuts, for example, contain calcium and vitamin D, both of which contribute to healthier teeth and gums.
The above gifts will give you and your child plenty of reasons to grin on Christmas morning. If you'd like more ideas for smile-friendly stocking stuffers, talk to your little one's dentist.
About the Author
Dr. Wendy Winarick loves helping children and adults in Waco enjoy bright, beautiful smiles that last a lifetime. She is a proud member of several dental organizations, including the Central Texas Dental Society and the Academy of General Dentistry. If you'd like to schedule a holiday dental appointment with Dr. Winarick for your little one, reach out to Dental Station Family Dentistry via our website or by calling (254) 772-1827.